project for a street corner (WTC PATH), 2008




top left: students were invited to my studio to discuss the dynamics of group behavior in public space before we formed the circle together.

top right: a snapshot of students from Murry Bergtraum High School taken during the performance.

bottom: two stills from video project for a street corner (WTC PATH), 2008


Working from a temporary studio overlooking a plaza in front of the World Trade Center PATH station entrance, I videotaped from above as a group of high school students and I stood in a circle in the plaza during rush hour. Over the span of twenty minutes, our circle shaped a regular stream of commuters into a smaller, then wider column. Sometimes individuals walked through the circle.


Watch full video:


project for a street corner (WTC PATH), 2008
color video, with sound, 11 minutes 11 seconds






project for a street corner (Fremont Street), 2010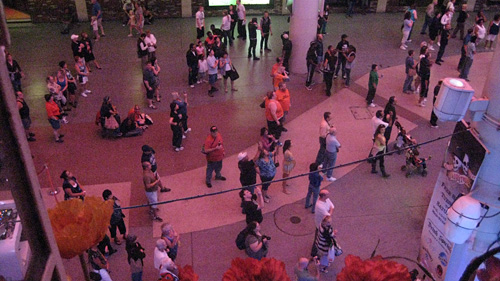 the Fremont Street Experience in Las Vegas consists of ten minute long music videos shown on a canopy and attracts a large crowd of tourists every evening.


Artist and about thirty Las Vegas residents, recruited through the Contemporary Art Center, formed a snake dance and a conga line on Fremont Street, amidst a crowd of tourists momentarily at a standstill, transfixed by the "Fremont Street Experience" video spectacle. Our real life performance was staged amidst a show, to affect the prevailing zombie-like behavior of the crowd through the insertion of our own different behavior in that space.


Watch video excerpt:


project for a street corner (Fremont Street), 2010
color video, with sound
excerpt: 3 minutes
full video duration: 8 minutes



project for a street corner (Reichstag), 2010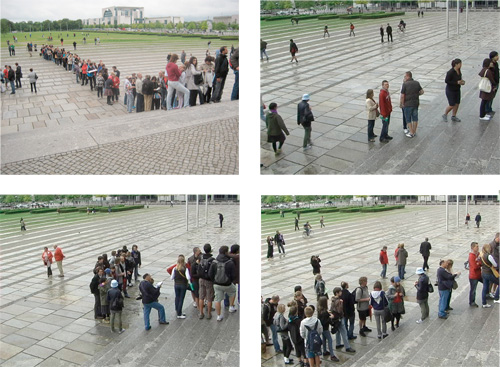 top left: every afternoon, a predictably long and very straight queue forms outside the Reichstag in Berlin.

other images: video stills showing end of line being directed in different ways.


Six volunteers turned the end of the line outside the Reichstag in one direction, and then another, over the span of eight minutes, during the afternoon of September 2, 2010.


Watch video excerpt:


project for a street corner (Reichstag), 2010
color video, no sound
excerpt: 1 minutes 32 seconds
total duration: 8 minutes 5 seconds






about participation

Two distinct groups experience these projects: the public who is present but not entirely aware of what is going on, and also the volunteers who create the event through their own behavior. Participant volunteers are considered the primary audience.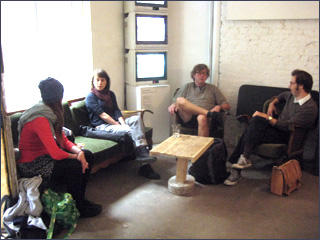 volunteers gathering at MMX Open Art Venue prior to the performance in Berlin.




view more project for a street corner