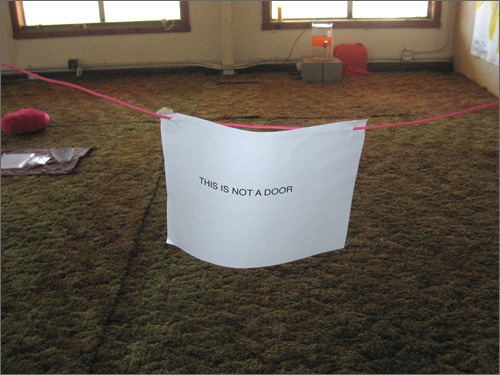 image: sign "this is not a door" hung across doorway during performance references Synanon.


participatory performance and installation at East of Fresno: The Hatchery
September 24 and 25, 2011

Materials: script, carpet, cushions, notes, paper sign, koolaid, cups, scarves, berries, incense, candles, sound recorder, speakers

At the California site of two failed intentional communities, an hour-long script was performed in a project room. Sound recorded during the performance was replayed in the project room, allowing those subsequently visiting to vicariously experience what has happened before, paralleling our collective attempt to eavesdrop on the histories of The Hatchery site.

The script contained: guided group meditation; psychological group techniques used for recruitment by pyramid scheme vitamin sales companies, the personal growth industries, and organized religion, such as encouraging everyone to form a circle and hold hands to recite something together; and an imagined dialogue between the different rooms of the Hatchery building itself, each room complaining about another, inspired by Synanon's style of confrontational group therapy.

The project room had 1970s era carpet installed, and bright cushions scattered about, placed on the floor for the use of the workshop's participants, and also for subsequent audiences to sit on and lie down upon while visiting the installation, evoking the standard New Age environment.

Channel was supported in part by the Foundation for Contemporary Arts with in-kind support from the HATCHERY art spaces.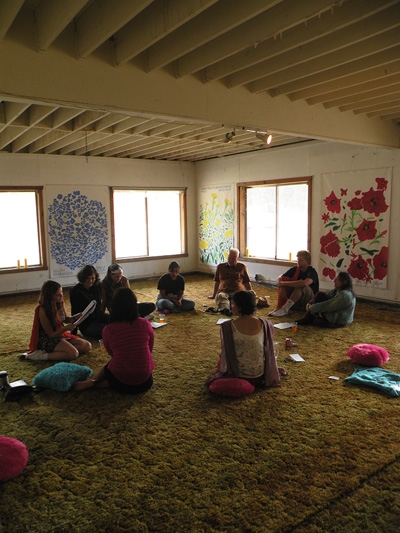 image: group during performance, flower paintings on wall by Sally Apfelbaum