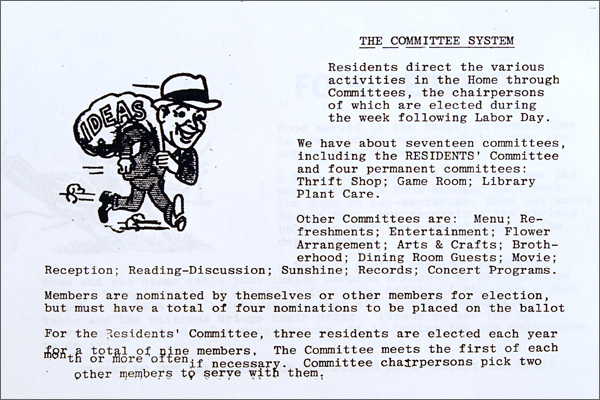 Original document found at Andrew Freedman Home, inside a welcome packet given to new residents, c. 1960



In the 1930s, during the heyday of the upscale Andrew Freedman Home, a retirement community for the formerly wealthy on the Grand Concourse in the South Bronx, residents self-organized affairs by committee, which included the Plant Care, Menu, Reading-Discussion, and Game Room committees. To connect the past with the present, and to bring the community now living in the surrounding neighborhood into the 'upstairs' of the Andrew Freedman Home, Activity Committee resurrected the committee system with free activity workshops called that recalled old pastimes and fostered new activities popular today.

Committees are an art form. Often tasked to solve problems and investigate material in depth, they serve as meeting ground and social space, and also can serve to waste time. Committee activities are familiar to community based groups, but the word committee also obliquely refers to the political: House Un-American Activities Committee, or the Comite Noviembre (a local Puerto Rican heritage group).

New committees inspired by the historical committees of the Andrew Freedman Home included the Welcome Committee, the Bird, Plant & Fish Committee, the Eating Committee, the Entertainment Committee, the Games Committee, The Tea Committee, the Reading-Discussion Committee, the Sculpture Committee and the Committee Ideas Committee.

Activity Committee headquarters were in a room on the ground floor with chairs and tables, and historical materials posted on the wall along with a calendar. Committee ephemera went on display as it was generated, along with anything we found, created, or thought about during our activities. Exhibition visitors, community groups needing space to meet, and the people who regularly work in the building were invited to use the space. The space also included a suggestion box and a lost and found.

See activitycommittee.tumblr.com for a photo diary of the project.


Contributing artists:
Bobby DeJesus
Martine Fougeron
Kathleena Howie-Garcia
Edwin Gonzalez-Ojeda



Activity Committee was part of the exhibition This Side of Paradise, curated and organized by No Longer Empty and generously hosted by the Mid-Bronx Senior Citizens Council.

ACTIVITY COMMITTEE WAS MADE POSSIBLE WITH PUBLIC FUNDS FROM THE BRONX COUNCIL ON THE ARTS THROUGH THE NEW YORK CITY DEPARTMENT OF CULTURAL AFFAIRS GREATER NEW YORK ARTS DEVELOPMENT FUND REGRANTS PROGRAM, BRONX BOROUGH PRESIDENT RUBEN DIAZ, JR. AND THE BRONX DELEGATION OF THE CITY COUNCIL.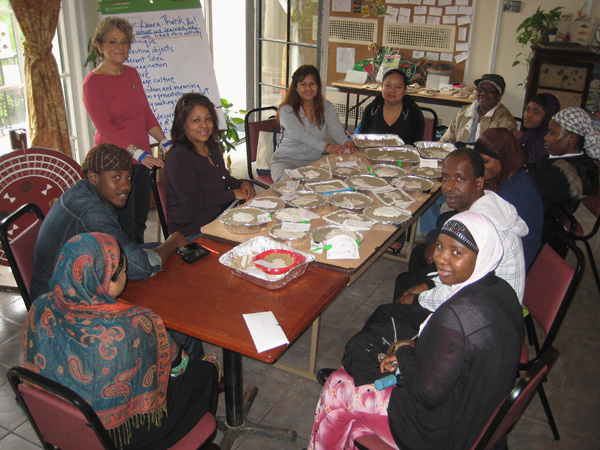 Sculpture Committee with adult ESL students, May 25, 2012. Members of this class hail from Mexico, the Dominican Republic, Bangladesh, Senegal, Ivory Coast, and French Guiana, and the group meets daily during the week on the lower level of the Andrew Freedman Home, where a variety of social service programs serve the surrounding community.