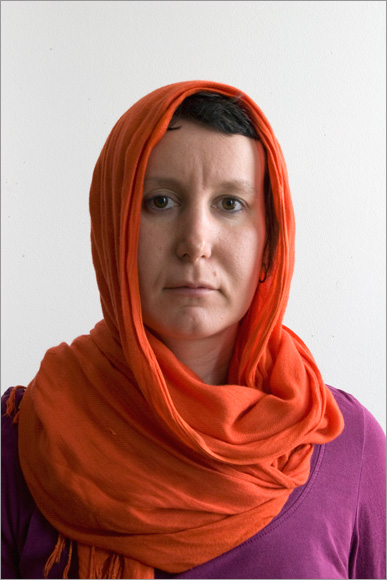 October 2011 - April 2012

When the artist was in public on the street or subway in New York City, she wore a scarf as a head covering. A scarf worn over a woman's head is close enough to American eyes to the hijab, worn by Muslim women, that it draws double takes and comments from friends and passersby. Wearing a scarf on her head as she went about the rounds of everyday life in the city created an easy way to provoke discussion amongst strangers as they tried to figure out what she was doing, and also exposed and desensitized everyone she passed to the form itself.

In practice she has found that a head covering is quite beautiful, keeping one's hair nicely in place, protecting from the glare of the sun, and insulating against the cold of winter and the ever present staring men on the subway. Head coverings have been worn by women for many reasons around the world, both in the present day and throughout history, by people of many faiths.

The headscarf in this performance also functions as an marker, referring to systemic discrimination against Muslims and other peoples domestically and overseas. The NYPD have been recently implicated in scandals, showing an Islamophobic video called "The Third Jihad" during police training and intrusively surveilling mosques and Muslim owned businesses in the New York State region. On a national level, The National Defense Authorization Act (FY2012) purportedly gives the United States the legal authority to seize and hold anyone in the world suspected of ties to terrorism without trial, indefinitely. The NDAA may also lead to U.S. citizens being arrested on home soil without trial. Confusion already exists in the United States between adherents of Islam and terrorists. More confusion may arise about the protesters of the Occupy movement, who could be indefinitely imprisoned and sent anywhere in the world under the Act. Additionally, there is speculation that a new war may be staged by the U.S. overseas in Iran, timed to the presidential reelection as a new "October Surprise" in 2012.

In provocatively wearing the headscarf, the artist symbolically dared the system to surveil and arrest her. While as a Polish-American it is quite likely that some of her ancestors were of Tartar origin and were Muslim, the artist felt relatively secure as a U.S. citizen socially endowed with the privilege that comes along with being identified as a white woman from a culturally Christian background. From this perceived personal safety she was protesting, taking up this small gesture to test limits and create a decoy.